Doh! Needed that info 5 minutes quicker, lol. Doesn't matter, still getting Custard Premium!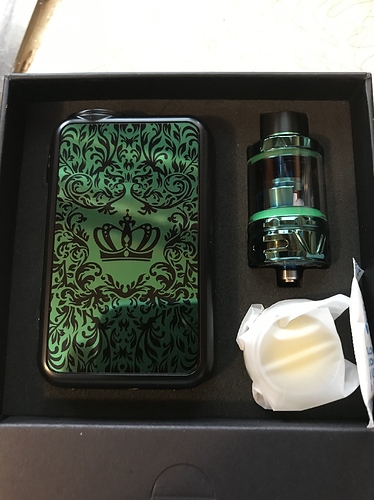 Got this bad boy today. I love it so far. I've never been disappointed with Uwell Crown products so far… well there is one thing, the lid on the tank is 1/4 turn and it's off and I almost had a spill in my coat pocket
Can you see the TCR setting for the 904L coils or are Crown keeping it a secret?
I just checked when i read that pressed the fire button three times and it popped right up. Tried to take a picture but it's too blurry. Works pretty good… man these are probably the tastiest premade coils I've ever used
What was the TCR? I have set up a few crown 4 for customers and have used .00092 and it seems to be ok. I can't find the info anywhere would love to see what they are using.
I'm not sure. The TC just pops up as ss904. I'm no genius but my taste buds are thanking me

Ah ok so no display as to what the actual TCR is cheers. It is a ripper tank.
Got these a while back to try out. Was on my last leg of my other bases and just broke into em last week. Very pleased, all r smooth and clean. Will order again for bases, very vape friendly company.
Gotta love it when all turns out GOOD!
Just ordered one from element vape on the 11th can't wait , my only other squonk was the segeili213 that you had as well
Well all I can say is - buckle up! You're going to love this thing man. I think the only folks who wouldn't like it are the same who don't like things like the Reuleaux or Gbox due to the size. It's not small.
I didn't mind the RX200 , it was one of my first mods … I havent squonked a lot but thats bc I'm lazy …
Alright @SthrnMixer break that big fat black thing down for me, because you had me at "… comes great simplicity".
Mmmmmmm, me likie Robert…
Glad you found a review. I was so hoping to avoid the 40k word essay it would take to express what I love about this thing. I was just asked what it is I like so much. Simply put - 2 things. That 10ml capacity, and the no mess top filling. From my perspective it's a squonking game changer.
I blame Rob. It's his fault, I was just minding my own business, and then he had to drop that TopSide Dual bomb on me. I take no responsibility …
I'll be happy to accept the blame!! You got a good kit there.
As for that Drop Dead, I really like that one a lot. Guess it's the airflow because to me (and I know I'm in the minority here) the Drop just sucked. This is vastly improved.
Thank you much! @Vaptio_official.
Won lottery, shipped (with tracking#), arrived, happy.

Will have to try and hack some black lights onto this.

Will test and preform an alien autopsy, and see how these alien pods work.