Reread your earlier post and you mentioned the drop dead… Thought it said drop
Yeah, I liked the Dead Rabbit so when I saw the Drop Dead it took me a bit to pull the trigger seeing how I didn't have a good experience with the Drop. But some well known equipment junkies egged me on so I got one. If the Drop were anything like the Drop Dead I would have bought more. Sadly though I didn't get the experience most others had with that one.
So glad they switched bottles , Tangerine leaked all over broken bottle top , green apple some how entirely empty …i hate these bottles hate hate hate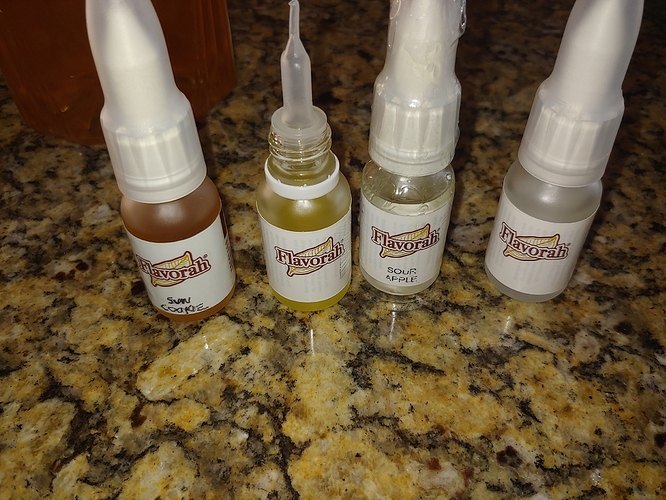 Me Too, i'm disscussted with them, having to put plastic over the tips, than screw the broke ass cap on… freakin sickining , my flavor cabinet smells like alpine, and that lime is some strong stuff… errrrrrrrrrr:tornado:





I always switch those bottles out, hate them with a passion. I know there new bottles are better but for now I would rather order them rebottled for fear they come in those abominations.
I love the lime flavor but smelling it straight it smells like pine sol
Ya the tangerine cap was broke and i had to pry itnoff and that stuff is super strong smelling
Ohhhh Yessssss @fidalgo_vapes. It seems like just YESTERDAY we were having a discussion about them.
Now I cannot understate how cool it was @Flavorah stopped by at @Alisa's nudging, and the reasoning BEHIND the bottles, and his DESIRE to make their product stand out, and all of the details in that decision process.
Despite understanding and really appreciating his true involvment I think we all kind of came to the same decision.
I can promise, they have really been invented for a while now… even the newer bottles have their own issues, but they are much better, @SessionDrummer…
@fidalgo_vapes… I'm pretty speachless. Check your messages please…
I really can not stay up tonight… but will catch you either mega early tomorrow or at sometime tomorrow.
Looks good man! Didn't know they had red
I didn't really want red. Been doing black everything for a long time now. But the black was sold out. I can dig it though

The design of this thing is exceptional. That deck design, for a 30mm atty is fairly compact which translates into some amazing flavor. So I give 10 clovers to the Asgard Mini and 30mm attys!
the opinions expressed are those of SthrnMixer and do not necessarily reflect ELR or any of its other members. If you don't have this atty you're missing out and all your children shall be born naked!
I got the exact same setup (just in black😉)
Be careful the fill stopper scratches the shit out of atty if you give it half a chance.
Oh man, that would look good on my red soon-to-get-here USV MAch ON3!
Nice SteamCrave there @worm, what else did you get ?
i knew this was coming from u as soon as i posted a SC

3 wotofo smpl , pink troll to matchy matchy a smpl cause @BikesAndBacon said i could pull it off, athena,hcigar helsman,chuff caps