Think of the fun you'll have with all of those flavors. WOW !!
Why was it your final order? Surely they can't ban food flavourings from being shipped.
Well I am guessing he is referring to last order from river supply which was the diy side of nicotine river who is still in business. River supply no longer exists which is a damn shame, one of the best resources for diy flavors and VG/PG in the USA. The company still goes on under the original nicotine river name but can no longer sell nicotine direct to consumers and flavors are bulk for commercial use although DIY can buy if they need that huge amount. VG and PG are still available but I believe in gallon or larger sizes.
That explains it , thanks.
Finally I got my first VSO flavors!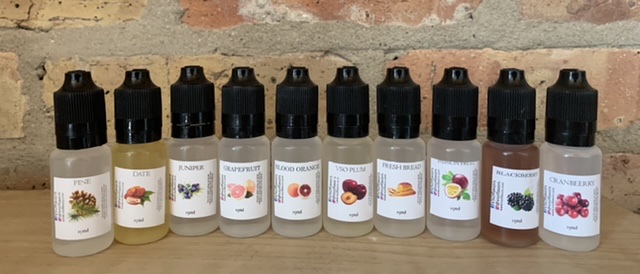 A big thank you to Swaggy Shane for upgrading my order which I put in for the Noted Episodes of Blood Orange and Grapefruit.
@SteveTC congrats on those, and @swaggyshane makes some great flavors. Don't hesitate to put up some notes if you're inclined.
I'm a big fan of the Unicorn/Mass Mods Axial RDA. I got the newest one a couple months ago which is called the Axial Prime. Since getting into mech tubes, and extension tubes, I've regretted not getting an Axial Pro when I had the chance. I didn't really care about series decks when they were still around. Anyways, I finally got one a few days ago.

I might set it up tonight but with the regular deck for now.
You probably know already, but when you do decide to build for the series deck, build and strum on the parallel deck first then transfer the coils to the series deck. If you try to heat up the coils on the series deck first, they will not glow evenly. One coil will heat up much faster than the other.
Thanks for the tip. I read that somewhere but forgot. The deck sort of makes the two coils into one long circuit or whatever was my understanding. I also have one of those series decks for my Asgard Mini's which might come in handy. I can make series coils but kind of want to see how these decks work.
It's a great RDA. One of my favorites for sure. Great value. Enjoy

I set up my Tauren Max RDA today @mjag . It's only been one day but so far so good. The draw reminds me of the Loop RDA but really smooth. I put some 3x27/42ga SFC coils in it which really work awesome. I get big flavor. This one is nice for the old school type draw, while the Rath feels a bit more modern. Flavor is about even IMO. I dunno tho, these coils have been fantastic in whatever I throw them in.
VA Evolution

This is perfect for my mesh builds, MTL vapes and even single coil builds. Only goes to 40 watts but oh so purty! Elder Dragon courtesy of an amazing forum member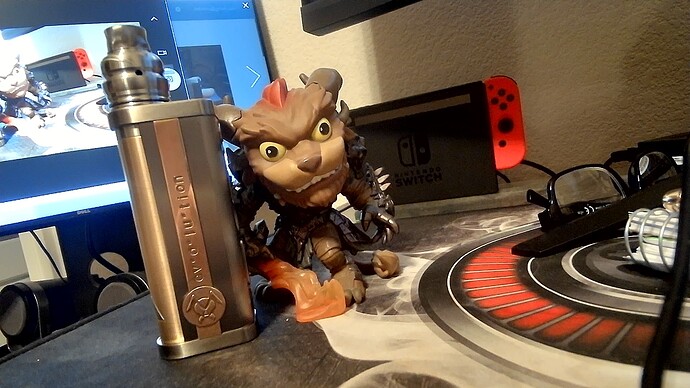 Nice. I'm a huge TwistedMesses fan and he had a hand in the design. I wanted one but never got it and have since moved to MTL exclusively. I still want one anyway.
Nice score man.
That is good info, going on my list with the Wrath for sure. Thanks bro

That mod looks lovely.
LYF

Ah those look interesting, pine, date, plum and juniper all sound like they need to be in my liquid, separately, probably, never seen that co before, thnx
i would have one, if they had black.
Thank You @TamVapes fir the rda so sweet my dear. I also for the first time in years bought a Commercial Liquid . Kilo original Dewberry Cream has been something I try to remix at least ince a year so i decided to buy a bottle bc I need to see how close i am bc I believe im as close as possible . The Melon berry Milk is supposed to be the same as the 2015/16 Dewberry Cream
Btw this shit smells great but taste horrible so I have surpassed the Commercial equivalent
That's what I'm talking about!!
Hell yeah Fiddy!