Don't be too jelly @D.Sims, because you really gotta buy big to get a reasonable rate per ml …
10ml 0.35/ml
30ml 0.30/ml
60ml 0.22/ml
1.0G 0.06/ml
BUT, DIY Vapor Supply has 30ml bottles which comes out closer to 0.17/ml …
Soooooo, that makes THEM the go to for OOO IMO.
I just wanted to let everyone know about at least One On One's, but also OTHER glass bottles with squeeze bulbs. I had already planned on offloading from the glass, into PET, my preferred choice for my racks.
Upon opening the big box, there was QUITE a large amount of the flavors aromas present. NOW, why is this a big deal ?? If you can smell it in a "sealed" bottle, you're LOOSING flavor molecules, AND, injecting air into the flavors shortening their lives.
I love, love, love glass, but I hate, hate, HATE the squeeze bulbs that just about EVERY MFG uses, EVEN my beloved Medicine Flower (but they're better than these). Most of the flavor seemed to be coming OUT of the bulb tops, so I went ahead with the plan, offloaded them all into PET bottles, and guess what ??
No Mo Smells !!!
Keep this in mind if you have bottles that are really hemorrhaging molecules, MIGHT be time to exfil them to a new solution. You PAID for them, keep'm fresh as long as you can.
How is that ooo tropical rainbow candy?
I had expected it to smell more like CAP Silverline Rainbow Candy, but it doesn't. Not sure if it's "tropical" or not, but I will when I test it.

Cant wait maybe just maybe i can do my skittles again. Sux i cant get the rf sc one anymore
You can request they either send a cap or cap them
Someone else told me that as well, and thanks for that. If that WAS the method, then I'd have to contend with using/removing the original squeeze bulb tops and/or syringes, which would slow my roll, and make a mess.
Thank you though.
I can honestly think of only a FEW flavors that I do CAP off. Medicine Flower Lemon (and a few other MF's).
What i meant is that MF will cap the bottles instead of using the bulb thing or they will send like usual and send an extra cap…Then all yiu have to do is take out the bulb plunger thingy and put in new cap essy peasy not transferring anything
I think you meant One On One also right ?
Yes, I know what you meant. What I was saying is that except for a few MF's I have every flavor ready to go, twist cap, or needle tip for fast mixing. Because I picked up a large number of OOO's, I wouldn't want to have that many capped, only to have to pull the caps back off and either insert the squeeze bulb, or syringe(s) just for a few mixes, then have to what ?? Clean all the squeeze bulbs or syringes ??
That was my point. I'll deal with it for the few MF flavs, but I wouldn't want to get in the habit of that for a large number of flavors. It's great they offer to just cap the bottles off and toss the squeeze bulb in the box, but when it comes time to USE the flavors, then things get time consuming, and/or messy. To be able to twist off the top, squeeze the flavors out, then recap like all my other flavors is the goal.
@Pastorfuzz I don't know if I've ever used LA's Butter Rum. With 8 ozs. looks like you use quite a bit ?
I seen this so didnt know if you knew rhey would accomodate yiu with the proper cap if asked . I alwsys have them send a cap so i dont have to remember what size cap is. Im not sure of OOO does it . Now thst you bring this up i need to get mu Sb Jam and Cornbread tranferred to bottles without plunger cap
I checked in my bigger bottle storage, and I do too …
The shit we do for our flaves lmao
I don't mean to bash on OOO or MF for taking the high road, and using glass, because that should be commended, BUT, if the squeeze bulbs leak, and/or are porous then that seems to defeat the whole purpose, and creates a huge disadvantage.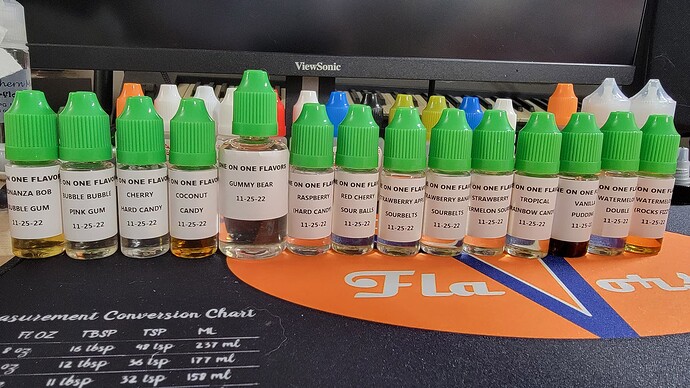 It's potent. I use it in RY4 recipes for the folks at the Post Office. They love it. It goes great with the Vanilla Ruyan Custard, Caps Custard , Sweet Cream and Vanilla Swirl.
Couple of month steep though