It is …direct is 18.99 plus shipping . I think amazon is 24ish shipped obviously
$30 shipped, ordering direct was crazy pricing I NEED this for my adv!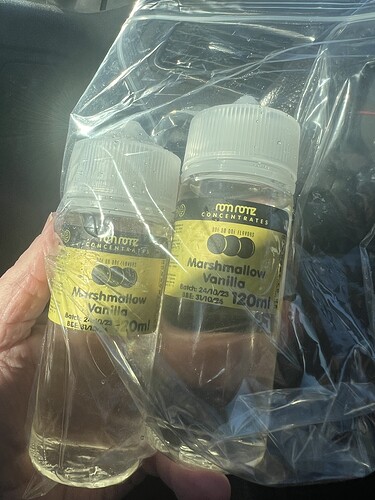 Plus it only took 6 business days to get to Massachusetts

I love mm vanilla. Best mm imo
Definitely agree, although the new Sobucky Marshmallow is good too, OoO will always be my go to unless I don't want vanilla.
Damn Vape's new RDA called: Demo.
That looks cool…The airflow ports remind me of the ED for aome reason. Let us know if its a winner
Ya beat me mines landing soon should be interesting
I might have to play with it some more to get the best out of it. Wasn't sure where to cut the legs, so I took a shot at 5mm. It bottomed out on the deck

, so I lifted it up a bit. With 3 holes open it's definitely airer than ab ED. It probably won't usurpass the ED for me, but I'm guessing it can be pretty decent.
So i aint grabbed me one yet but:
Yes please, it will work for the 30's too.
And @SessionDrummer you see this?
Natural Thai Apple
Natural Passionfruit
Natural Boysenberry Raspberry
Natural Caramel (Salted)
Natural Mora (Blackberry)
Natural Lemonade
Natural Strawberry (Juicy)
Natural French Vanilla (Thick)
Natural Lime
Natural Orange (Citrus Tangy)
Natural Blueberry Jam
Talked to Frank about these when WF first had them in their site and he has told anyone who asked that they are not meant for Vaping , yes they will work but not worth buying unless your using them for baking , candy etc etc
"Hey man
Sorry I was burnt to a crisp yesterday
These flavours are only natural instead of natural and artificial
They are the same flavour just cleaner label for other industries that we would we do custom stuff in the past for. We released these to have available on the site.
As a diyer you are wasting your money to be honest
They are also more expensive (you can see on the site)" Frank WF
Frank didnt send any of these out …
I saw that the other day and 3d printed myself one
Thanks d00d. If i use flavors for baking or foods/drinks its almost always MF.
Wait, WTF ??? Bottle stand ?? !!!

I need to get one of those. You triggered my OCD…
I have 8 lol plus a cnc mill and cnc metal lathe. Thats a great niche market he has going. Im def not getting back in the custom mod business but if you ever need anything made just let me know and ill make it and send it out to you
I went 5.5 and your right all the air I was going to slam it but now. I'm not sure as you say more playing time
I'm not sure what happened with my measurements the first time but I was wrong I think…I cut the legs at 4.5 after watching a video and it worked out fine… There's a mm or two clearance between deck and coil… My coil is a 3mm ID N80 SFC: 5x30/40ga, .24Ω, and I'm using 65,W. Not sure if I like two holes open or closing down all three some… It's performing well now but I keep trying to find the right draw. It's giving me really good flavor but it takes it bit of work to get dialed in.
My next coil is gonna be a favorite, and I might try it even lower to the deck just to see what happens… There's definitely more room inside the Demo than the ED. It might be a good candidate for one of those jumbo coils 4 to 5mm. I'm gonna keep trying 3mm ID for a while though.
One last thing. I think they should've made the airflow schutes go in a bit further. Just a bit closer might've been beneficial for easier good flavor (If that makes any sense

).
I agree with you mate, I find them a bloody nuisance when they keep falling over all the time.