Another sweetie

I build my very first Juggernaut Coil today: a SS316L 27ga x 2 + 0.1 x 0.5 ohming out at 0.24.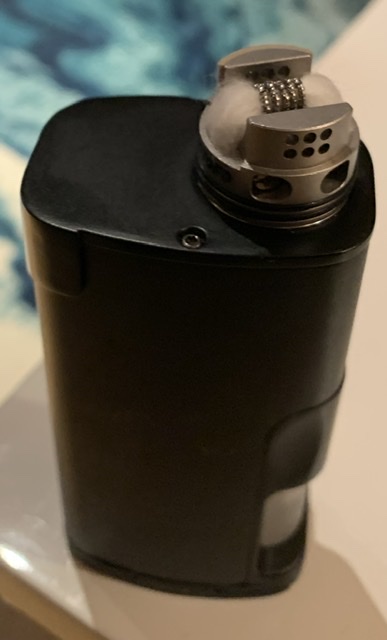 Goes very well with my latest mix:
On a KETO vape diet today;

Love this strawberry custard. Thanks for sharing.
If you've tried any of my recipies you'll know i like the flavour to smack you up the lip.
I've smoked heavily for 35 years plus which has killed many many taste buds so if you like a flavour punch try one of mine.
If you're not keen on high percentage flavours use the edit tab to adapt the overall flavour percentages to suit you especially on the cream and Custard ones.
The latest fruit (Oasis) range are moderately flavoured and will suit everyone imo.
This one is especially good imo.
What is TAC?
Never heard of it and it's not on the list.
Very first line:
The Alchemist Cupboard
Oh fudge… I started looking at the T but it's the very first one


Thanks

Lemon Crinkle Cookie, Ohh so good!
Tribute Vape to Lemmy;


Looks like another one in need of fixing…
@BigDisplay just to let you know, expect this listing to change soon.


I won't know whether it will be merged into the proper listing, or if I'll have to edit the current one until I have a chance to take a look and see what's available… But the proper format should be: Butter Cookie (Vapable)
Assuming no one has taken liberty with the actual flavor name of course.
Nice spotting, i changed it thx

Hey team, made a super basic mix for an older lady at work that shes been loving so thought I'd share. Also about to attempt a Mango & Peach 50mg/mL for Pods without going too overboard on flavours! Definitely picking up some more FLV, INW and MF in the near future as I much prefer these super concentrates instead of using ridic percentages of flavour.
Apple & Raspberry (6mg/mL 70/30 High VG) v1.0
1.0% INW Raspberry
1.0% INW Cactus
4.0% CAP Fuji Apple
0.5% CAP Super Sweet
0.5% WS-23
Regrettably when she asked for Apple and Raspberry I only had CAP Fuji Apple to play with so I thought I'd start having a play around with that, I usually use Fuji Apple around 2% not as the main note with other things but have never used it as the main attraction before. Also may be a bit high on the INW Raspberry but since she only wanted an Apple & Raspberry mix I thought it should actually have the flavours she wanted there. I've got a massive desire to remake this with Dragonfruit added… #mixersanonymous
Will come back with my Mango & Peach pod recipe once I get that sorted and made up, if anyone has any suggestions I'd love to hear them but am limited to only having CAP Sweet Mango at the moment. Last used it at 20% for my Caliburn Koko but I feel I could get away with 1/3 of that if applied correctly.
EDIT: That Apple & Raspberry is delicious, could go to 0.5-0.75% INW Raspberry instead but its nice as is. Can only really taste Raspberry with a juicy mouth feel in a pod but in a Sub-Ohm that's an awesome juicy Apple & Raspberry vape. I'm always looking for the grail combos that work in both types of devices though I struggle because I use 70/30 High VG for Sub-Ohm and usually 40/60 high PG for Pods.
Looks good, and I'm a Bigfoot fan myself. Suggestion… I've found that FLV Milk and Honey gives a bit of a brown sugar earthiness when pushed higher (reminds me of Moon Sugar recipes I've tried in the past). It may be a more rounded agent than the Brown Sugar itself. I don't have enough of those ingredients to try that myself or I would. Looks good!
HaHaHa, that's a Great suggestion Phil, you wanna know why? 'Cause I had the same exact thought myself! The Milk & Honey tends to fade a bit 4me and at 1% should work very well here. Definitely gonna sub for that next time I mix this one👌
Finally got around to vaping @Rocky02852's coffee creations, and the State Drink surprised me. An interesting take on a coffee milk, and def. gives a one two punch of coffee and creams/milks, with a little bit extra in for good measure.
I love apple raspberry too, must be an "older ladies" thing

I just filled my tank with this:
How do you like the inclusion of the Marshmallow and the Lemon? That's really interesting might give them a go

The lemon helps the fruit to "pop", I use it instead of citric acid.
The marshmallow just smooths the mix a bit.