Hey guys/gals, we've got this topic scattered around, in multiple threads, and time is SHORT, so wanted to try and funnel most of it here.
Didn't want a total re-hash of what we've covered, but I personally have stocked up on both Freebase and Salts. All broken down out of the shipping containers, into 500ml Wheaton bottles, topped off with Argon gas, capped, and taped, in Ziplock bags in my Low Temp Medical Freezer, which hits -30F. Paid a little extra, but the lower you go, the slower the chemical reactions are. I stepped up my prep and was running out of room, and picked up a regular temp freezer (-7F) and started loading it up as well. Shot an email out to Jake and team at Nude Nicotine, and got a response back.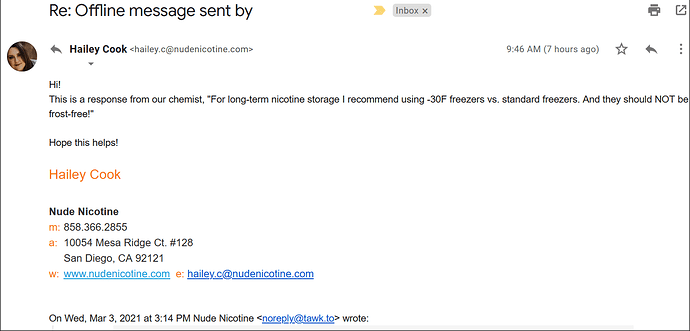 I had been on the fence about ordering another Low Temp Freezer, or just use the standard temp, but after this email, and my investment thus far, will be picking up a second Low Temp, for peace of mind.
https://www.amazon.com/gp/product/B01MEHJCQ2/
https://www.amazon.com/gp/product/B003G2ZWZC/
https://www.wayfair.com/appliances/pdp/edgestar-11-cu-ft-freestanding-mini-fridge-with-freezer-eget1039.html