Done. Thanks for the link.
Signed! Thanks for the info.
Signed and shared in EU in our forum, explaining what's going and urging to sign before we get the sh… over here as well.
And people over here have already started signing… They're texting me and confirming this on the forum.
It'll be a 24hr a day thing, EU-US-AU TIMES… over 700 signatures since I signed and that is in about half an hour!!
Outta likes, but thank you @woftam. Signed, shared, passed on …
Yeah well, color me sceptical but that public comment period IMHO is bullshit and a waste of time.
Does anyone honestly believe that comments from the public will make a bit of difference? The powers that be have already made their minds up. Allowing the submission of public opinions/comments is simply a formality and will largely fall on deaf ears.
People cannot imagine that a real and tangible (albeit of a dubious overall significance) public commenting process meaningfully exists - yet they can nevertheless imagine that "Mr President" is required to physically affix his "signature" to an FDA Agency Rule - when he is not. So rich. Trump may find that a useful illusion.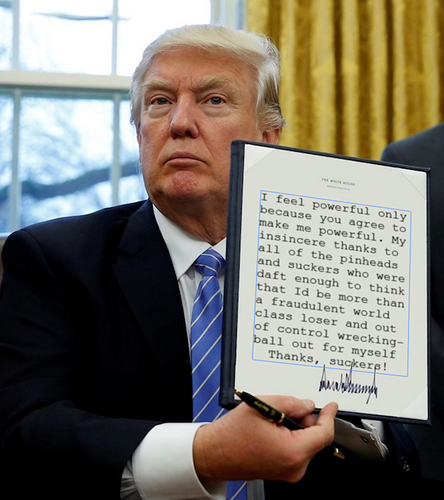 Create your own powerful Executive Order for Great Leader to sign (special discount price, today only!):
https://hepwori.github.io/execorder/
That "Hell Boy's" oral expurgations could reassure anyone on the planet seems anathema to rationality.
Signed I don't know if I count being in Australia but it's still BS what they are doing.
Thanks for having a go and standing up for what's right!

After six deaths and hundreds of vaping-related illnesses, the White House announced a ban on the sale of most flavored electronic cigarettes, a device popular among teenagers that simulates smoking by delivering nicotine through a cigarette-style vaporizer. Do you support or oppose the ban?
Talk about slanted opinion.
Years ago in the 1970s I used to live in St Petersburg, Florida just to the north of his "barnyard". (Then, and likely still now), one of the most very conservative (and wealthy) Florida counties. Wonder how Vladimir's trolls are voting on this poll - probably for the Orange "over-dogs" …

You can never trust anything this guy says and never know what's going to happen until he puts a signature on it… that's the scary part of it. All you want to do as long as he's in office is hope that he's not going to think or talk about anything important to you. He changes his mind depending on the last person he talks to and it's a flip of a coin, you never know what direction it's going to be heading.