This is a short tutorial for use with the off-line Windows recipe calculator aptly named "The Juice Calculator". If you are looking for an offline calculator this is one of if not THE best!
In a nutshell The Juice Calculator is not just a standard calculator and IMHO easily smokes the E-JuiceMeUp program! In addition to creating recipes The Juice Calculator will track all of your ingredients, track all of your inventory, provides alarms for steep times and for when you are running low on ingredients, assists in the creation of your shopping list plus a whole bunch more.
That said, the purpose of this thread is to show you how to import ANY recipe found on ELR into the program!!
I've used this program for a long time so if you have questions let me know.

1 - Open The Recipe Calculator, leave it run in the Windows background.
From ELR select the recipe you want to import. This example uses my French Vanilla Bomber recipe.
Click the Blue Wrench. At the bottom of the dropdown list select Copy Simple Text.
This copies the recipe into the Windows Clipboard (cache).

2 - Switch over to Recipe Calculator.
From the main page select Tools --> Import From Text File.
Import From Text File --> Import Pasted Text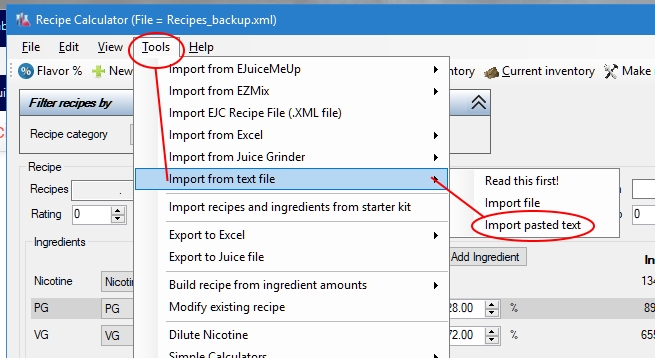 3 - You'll see a blank text box open. Now press Ctrl-V to paste the recipe.

4 - The text box populates with the recipe pasted from the Windows clipboard.
5 - Click Import and watch the results.
Click OK.
6 - Click Exit
7 - Recipe imported. You are DONE!!
Full screen…
Please excuse if the formatting looks fucked up.
Note: If your preferred browser is Chrome you MUST have the Adobe Flash plug-in enabled and set to "Allow" under Content Settings for the E-liquid-recipes.com website.